Sjaak Laan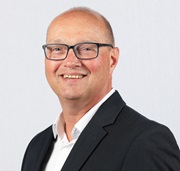 Sjaak Laan (1964) works at CGI and has more than 35 years of IT experience. He is a Director Consulting Expert in cloud, infrastructure, architecture and security, working in various markets (government, finance, energy). Sjaak is regularly asked to act as lead architect or consultant on complex projects.
In addition to his work with clients, Sjaak is Practice Lead Cloud & Infrastructure, where he and his core team are responsible for developing knowledge within CGI Netherlands and sharing this knowledge both inside and outside CGI.
Sjaak holds TOGAF, AWS Certified Solution Architect, Certified Azure Solutions Architect Expert, CISSP and CRISC certifications.
He closely follows developments in his fields and regularly publishes about them through various channels (print, web, or presentations). He has written a best-selling book on infrastructure architecture that is used as a textbook in IT infrastructure courses at a number of universities in the United States, Australia, South America, India, and the Middle East.
Email: sjaak.laan@gmail.com
For more information, check my LinkedIn page.
This entry was posted on Maandag 27 Februari 2006